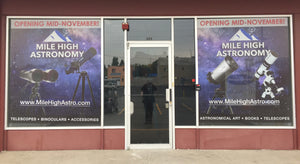 Announcing Our New Retail Showroom
It has taken longer than I had hoped to get here, but our new retail showroom will be opening in mid-November!
Note: From October 28th - Store open, no local pickup or phone support will be available while we are busy setting up and moving into the new space!
We will be located in Lakewood, Colorado at the intersection of West Colfax and Kipling. We will be located on the NE corner of West Colfax and Kipling in the same development as the Disguises costume shop, towards the west side of the building.
Store Address:
9797 West Colfax #3vv
Lakewood, CO 80215
Right now, the contractors are building out the space, and we have a target of a mid-November grand opening. As we get closer, I'll share specific opening day details!
While we're getting ready to relocate to the new store, local pickup hours will be very limited. Please call ahead before visiting until we can open our new location! Order shipping will continue as normal, with the potential for a one-day delay as we begin relocating inventory to the new store.
Store Offerings
Hands on Product Displays
We will have a range of telescopes on display, along with eyepieces, binoculars, books, science toys, and other accessories. It will be your opportunity to see some of our favorite telescopes up close and hands on.
Individualized Guidance
The right telescope for you isn't the right telescope for everyone else. Astronomy is a diverse hobby, and our goal has always been to help you explore the cosmos with your goals and budget in mind. 
Our store and staff are friendly and approachable, no hard sells, no commissions. Our space is being designed as a place for you to explore and discover the wonders and inspiration of the cosmos. We cater to everyone from first timers wanting to dip their toe into stargazing to advanced astro-imagers and everyone in between.
Extensive Inventory
Our catalog is rapidly expanding as we continue adding new brands. By the time we open, I expect to have over 1,200 products in our catalog, and immediate stock of over 200 individual products, and over 50 different telescope models available for immediate pickup. Most items we may not have in stock typically arrive within 5-7 business days after ordering.
Brands We Carry
This is a constantly expanding list, but presently, here are the major brands we carry as of October 2018. If you don't see a brand or product you are looking for on our website, give us a call!
Astrozap
Celestron
Coronado
Farpoint
Meade
Orion
Sky-Watcher
Telrad
We will also stock a curated selection of books and charts. You won't find everything under the sun, only those items that we feel deliver real value and have earned 5-star ratings from actual customers. This includes children's astronomy, space, and astronaut books for all age groups!
Telescope Repairs & Servicing
We get asked a lot if we will be offering telescope repair or collimation services. This is something we will evaluate after the holidays.
Classes & Training
We do plan to offer regular group classes and other in-store events and activities, including some telescope and astronomy basics classes. I expect we will be ready to start offering these in January or February.
THANK YOU!
I want to say a huge and heart felt THANK YOU for your support and patronage! The level of interest since I launched this business in March – just eight months ago – is what is allowing this kind of expansion to better serve you. I can't wait to have you come visit the new showroom. I hope to make each visit an experience in itself – this will not be your average telescope store!
---