---
Free Ground Shipping Available (CONUS Only)
Not Returnable
Please note that used items are not returnable.
---
This is a used Pegasus Astro Focuscube.  This is version 2.  It is in excellent condition, with parts as shown.  
Pegasus FocusCube 2 with Universal Bracket
The Pegasus Astro FocusCube is a dependable fast and accurate telescope focusing system that has kept up with constantly evolving astronomy technology in order to assist fast optical systems and modern imaging cameras in providing the precision focusing they require. These contemporary camera devices necessitate automatic focusing following only a tiny period of time since temperature can influence both focal length and optimal focus position. Pegasus has developed the FocusCube to meet all of these requirements.
Featuring a superior quality design with modern electronics, the Pegasus FocusCube offers precise digital focus control via a PC. These electronics, along with a stepper motor that enables absolute position focusing, are housed in a small, compact box. But don't be fooled by its size! This device is capable of lifting imaging equipment weighing more than 6 kg (13.2 lbs.) without difficulty when the telescope is pointed towards the zenith!
Includes both a Universal (wide) and Newtonian (narrow) black anodized L-shaped aluminum bracket to fit most current focusers.
High Torque & Resolution Stepper Motor
The embedded stepper motor is a high resolution geared stepper motor. Its powerful gearbox has very low backlash and high torque suitable for focusing in micron scale easily and with great accuracy. Motor step angle is 7.5 degrees, but with a 1:120 gear ratio, the gearbox reduction rate is 0.06255 degrees per step. As firmware implements half step drive, the motor can execute twice the steps per cycle. This translates to 11,510 steps per cycle! Simply attach the FocusCube to your refractor, reflector, or Schmidt-Cassegrain telescope, plug in the power and USB cables, download the ASCOM drivers or independent software, and you'll be ready to begin.
Please Note: The FocusCube is a standalone device and does not require a hand controller. It should not be paired with the Dual Motor Focus Controller or any other controller on the market. The RJ45 port should not be connected to the Ultimate PowerBox RJ45 Stepper Output.
Temperature Probe
Located near the motor connector is an external digital temperature sensor input. This input accepts the included one (1) meter long digital probe that can be placed near the focuser so that the precise temperature of the focuser/environment can be determined through the provided software or ASCOM driver.
The Pegasus Astro FocusCube is compatible with ASCOM 6.4 and INDI (Open Astronomy Instrumentation).
Firmware Upgrade Support
Controller firmware supports re-programming for forthcoming upgrades via the USB 2.0 connection and upgrade software. Pegasus Astro is constantly adding new features to both the firmware and the software based on customer feedback.
Pegasus FocusCube with Universal Bracket Focuser Compatibility
Orion Optics UK default focuser
Takahashi (FSQ106, FSQ85, TSA102, TSA120, TOA130, FS60-CB)
2" and 2.5" Moonlite focusers
Synta focuser refractors (Skywatcher Esprit 80ED, 100ED, 120ED, 150ED)
Altair Astro (Full telescope series)
2", 2.5", 3", and 3.5" Starlight focusers
Explore Scientific Refractor Focusers (Full telescope series)
William Optics Refractors (Full telescope series)
Pegasus FocusCube Technical Specifications
Supplied Voltage: 12V - 13.8V DC
Motor Compatibility: Stepper motor inside the enclosure
USB Connectivity: USB 2.0 Type B plug
Thermal Sensor Resolution: 9-bit Celsius temperature measurements
Power Input Connector: 2.1 mm center positive socket
Motor Specs: High resolution geared stepper motor with 7.5/120 degree step angle (0.06255 degree gearbox reduction rate), 5755 steps per circle of rotation (firmware implements half step drive so that one motor cycle is 5755 x 2 for 11510 steps), and very low backlash
Dimensions: 56 mm (2.2") x 63 mm (2.5") x 39 mm (1.5")
A must have for successful astrophotography sessions

Focus fast, reliable, and accurate your telescope by using the "FocusCube 2". The evolution of technology in astronomy requires a system that will assist the focusing of the telescope with great accuracy.
Fast optics and modern camera devices require automatic focusing in every small period of time as the temperature can affect the focal length and modify the optimal focus position. Pegasus FocusCube has been developed to meet all of these requirements.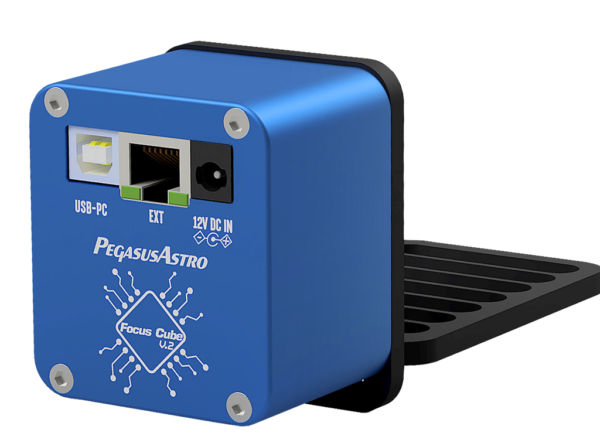 Successful installation to following telescopes
We have succesfully installed the Universal L bracket to the following focusers
Baader Diamond Steeltrack

Baader Steeltrack

Explore Scientific Focuser

MoonLite Focusers

Skywatcher Esprit Series Focuser

Starlight Feathertouch Series

Stellarvue Focusers

Takahashi FS-60, TSA-120, Epsilon Focusers

Takahashi FSQ & TOA Focuser

Vixen ED81S

William Optics GT71

William Optics RedCat
Lifts more than 6kg (13 lbs) of imaging equipment
when telescope point to zenith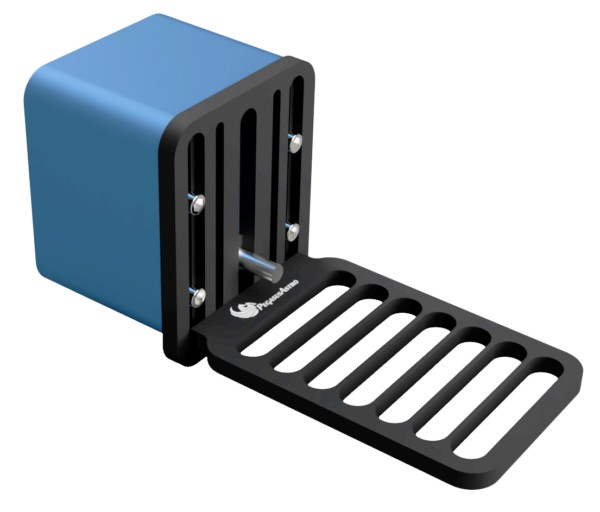 FocusCube has a very low backlash and high torque suitable to focus in micron scale.
Due to its high resolution and torque, the FocusCube should be placed on the coarse knob / direct shaft of your telescope focuser
High resolution
Geared Stepper Motor
in an aluminum enclosure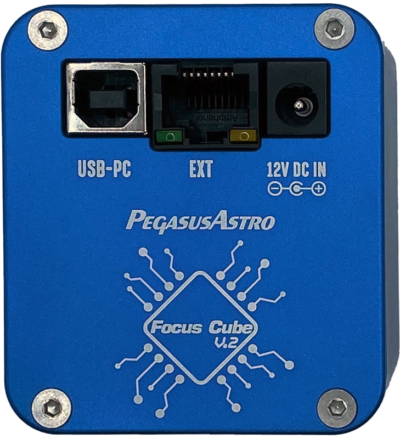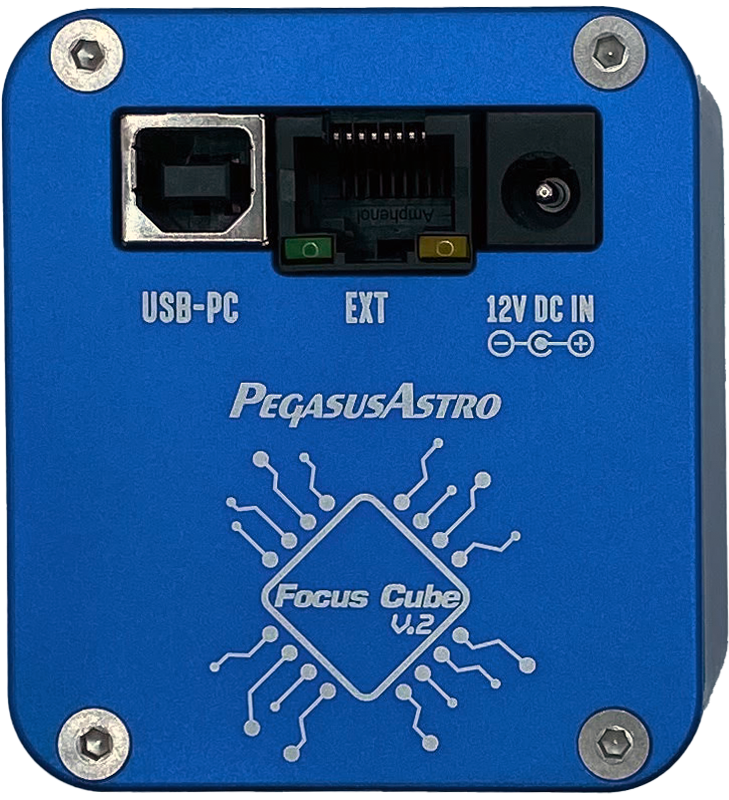 Designed in a high-quality CNC body with modern electronics, FocusCube provides digital precise focus control, for absolute position focusing.
Solid motor couplers in package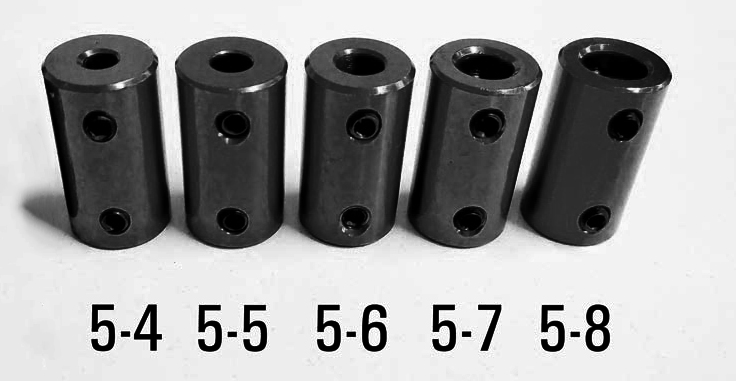 Five solid, different bore size, motor couplers are provided so you can select the coupler that fits to your focuser's shaft. Choose between 4mm to 8mm couplers
Universal Bracket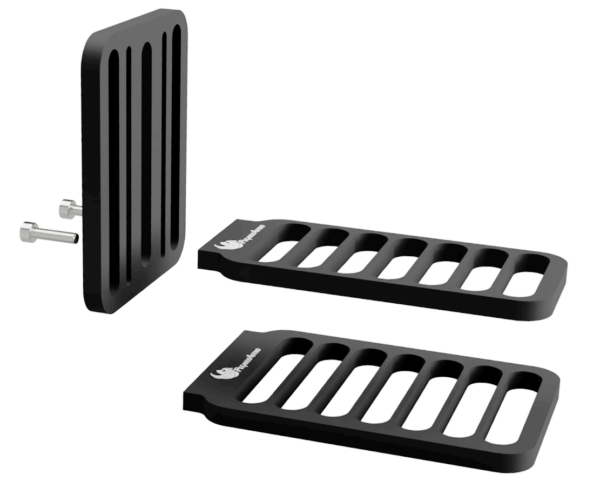 We have designed the L-shaped bracket to easily fit onto most focusers in the market. The lower part of the redesigned bracket can be replaced with a slimmer rail (included) for better compatibility with Newtonian and other low-profile focusers. This L-shaped black anodized aluminum bracket is hard to bend, has cut rails, and can be attached to a wide range of focusers.
Accurate and repeatable focus v-curves
Temperature Probe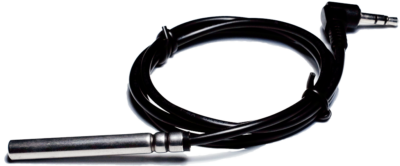 An external digital temperature sensor input is located on the side of the focuser. A digital temperature sensor is included in the package. The probe can be placed near the focuser so the exact temperature of the focuser / environment can be seen through the supplied software or ASCOM driver.
Expansion Port / Manual Focus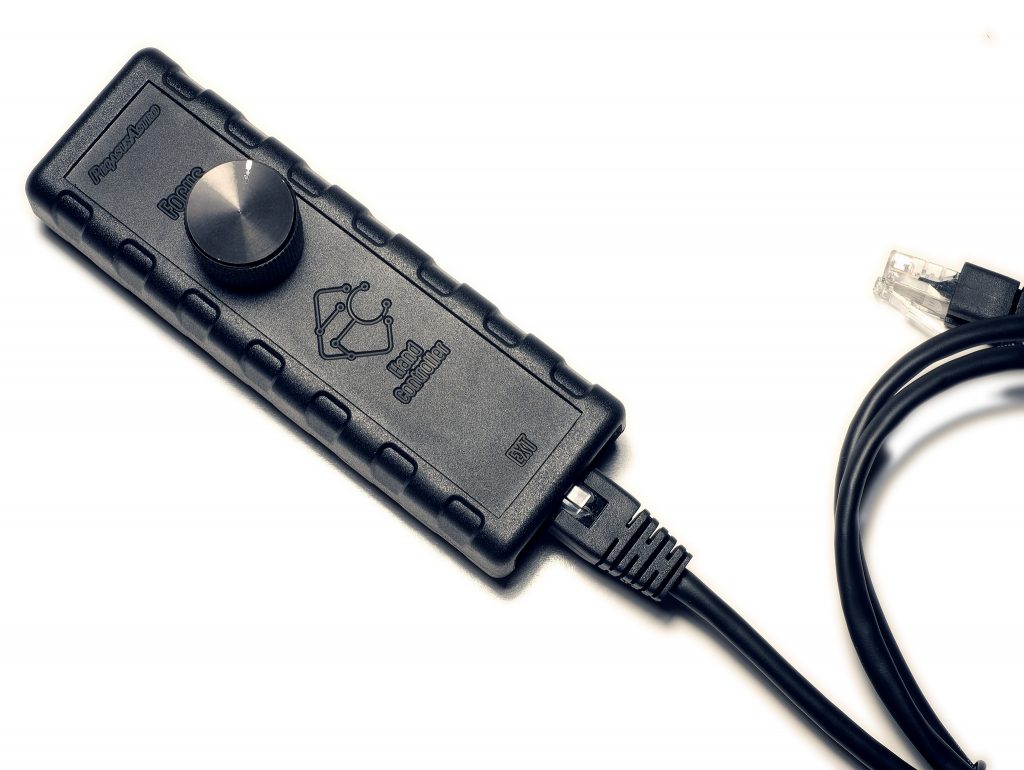 FocusCube includes an expansion RJ45 port at the back of the enclosure. This port provides input for the temperature sensor. An optional hand controller for manual focus control can be acquired for those who might want to add this functionality.. This is an Optional Accessory
ASCOM and INDI support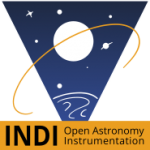 FocusCube v2 supports latest ASCOM and INDI framework.
Firmware upgrade support
Firmware supports re-programming via the USB 2.0 connection using upgrade software ((only available for Windows), for future upgrades which may become available. We constantly receive feedback from our customers and keep updating the firmware and software with new features.
Dimensions & Weight
56 x 63 x 39 mm / Weight 280g
Unity Platform support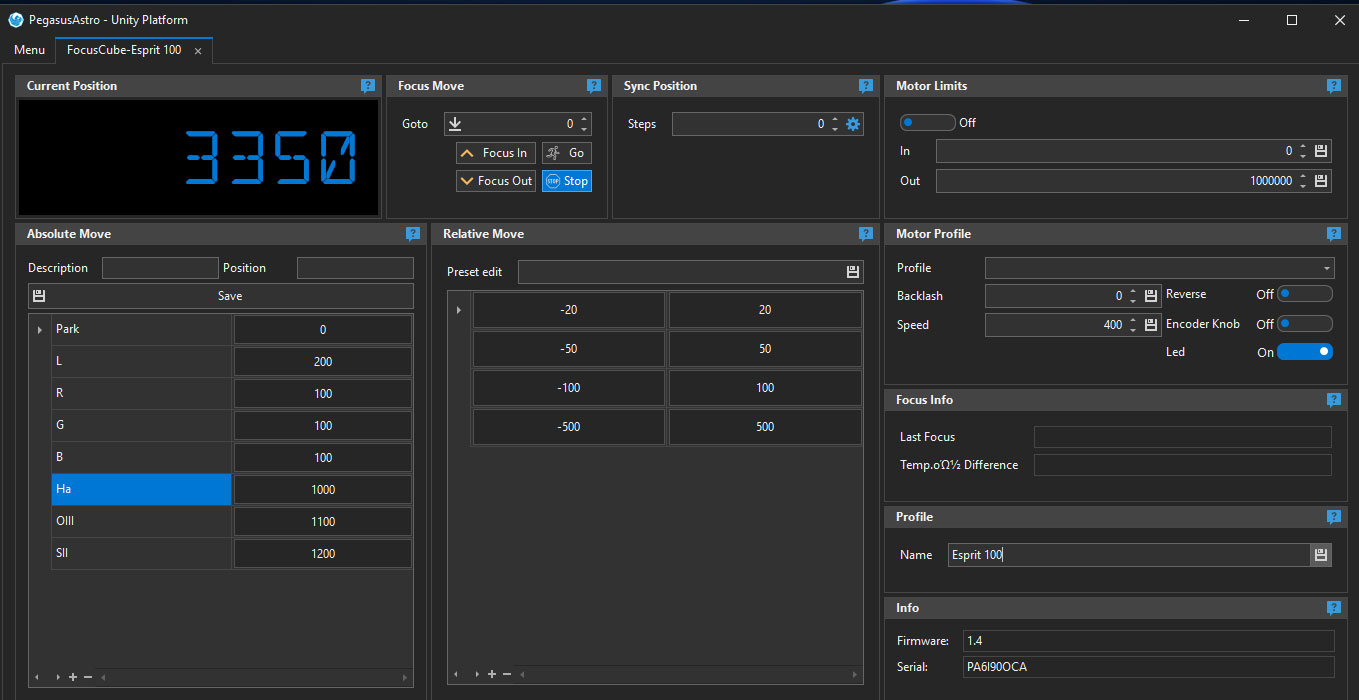 Full control of the FocusCube device can be achieved through Unity Platform.

Different profile names can be used to identify each setup
Pegasus Astro Unity Platform is our new all around application. Our goal is to provide a robust and modern application that is going to support current and future products under one roof.
A modern frontend allows the full control of all Pegasus Astro devices.
Moreover, a REST JSON api helps developers from 3rd party software to interact with our products.
As we continuously develop our applications, based on customer feedback, lots of innovative features are going to be added in upcoming releases.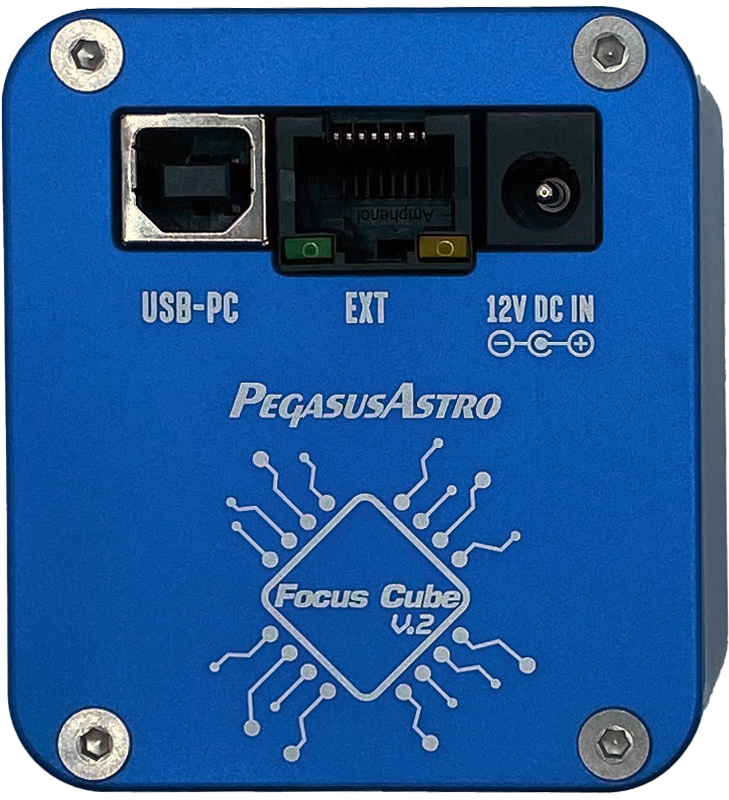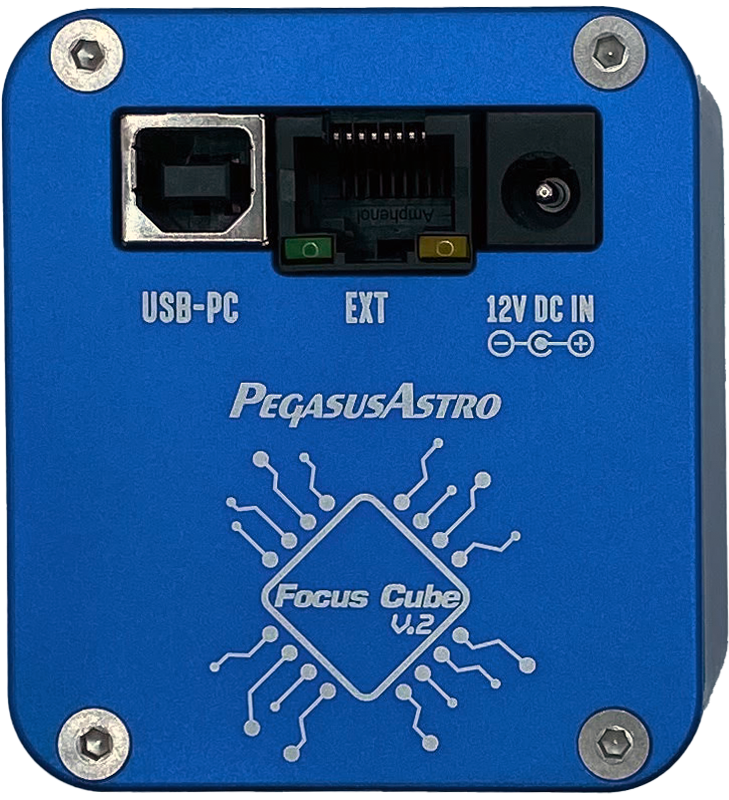 Different sizes (Pairs of M3x10, M4x10, M4x40 M5x10, M6x10, ) of metric screws and washers
4 x M3x6mm length screws (to attach the enclosure on the bracket)
Barcode:

---